Commercial Lawn & Landscaping Services in & Around Bondurant, Altoona, & Ankeny, IA
Our services include leaf removal, weed control, mosquito control, landscape design, fire pit installation, and much more.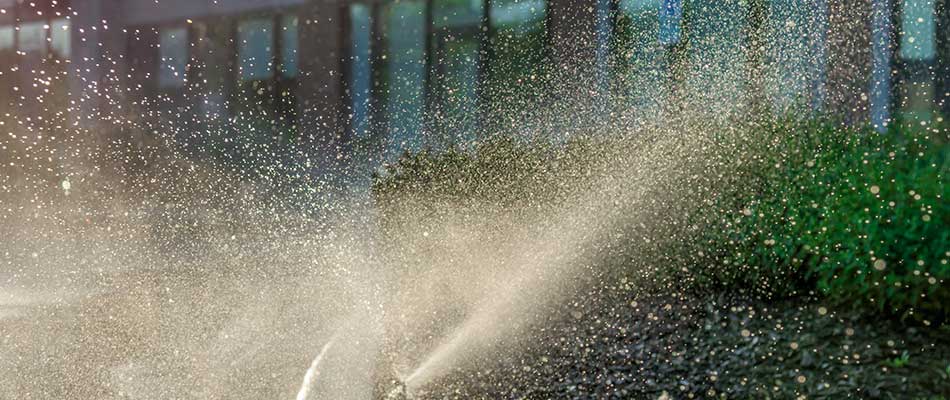 It is very important to keep your commercial property in excellent condition throughout the year. Businesses that have a polished appearance enjoy higher curb appeal and make a great impression on customers. At Frontline Lawn & Landscapes, we provide a wide range of commercial lawn and landscaping services to property owners in and around Bondurant, Altoona, and Ankeny, IA.
Our services include leaf removal, weed control, mosquito control, landscape design, fire pit installation, and much more. These services work together to boost your commercial property's health, appearance, functionality, and value. Call us today at (515) 967-7400 to sign up for any of our commercial services!
Lawn Fertilization

We offer a 5-step fertilization program that supplies your lawn with key nutrients to power healthy growth all year long.

Weed Control

Our weed control program consists of 5 steps and eliminates common weeds like crabgrass, goosegrass, dandelions, and more from your lawn.

Lawn Disease Control

We perform lawn disease control treatments that target common lawn diseases like brown patch, snow mold, necrotic ring spot, and more from your grass.

Lawn Insect Control

Fend off grass-destroying insects like grubs, armyworms, and chinch bugs from your commercial property with our powerful lawn insect control treatments.

Aeration

We offer our core aeration service in the spring and fall to relieve soil compaction on your property so the roots of your grass have better access to water, oxygen, sunlight, and nutrients.

We have been serving Bondurant, IA, and surrounding areas since 2006!

Overseeding

Promote new grass growth and eliminate bare spots from your lawn with our highly effective overseeding service.

Hydroseeding

Our team performs hydroseeding to catalyze new turf growth at your commercial property.

Sod Installation

Get a new, green lawn instantly at your business when you sign up for our sod installation service.

New Lawn Seeding

We use our premium seed blend to grow your new lawn from scratch when you sign up for our new lawn seeding service.

Lawn Mowing

We offer a weekly lawn mowing service that runs from April to November and includes string trimming, edging, and debris blowing with each visit.

Leaf Removal

Keep your commercial property free of leaves with our leaf removal service, which starts in October and goes through March.

Yard Cleanups

If you have an overgrown or distressed commercial property, we can get it back in top shape with our yard cleanup service.

Hard Surface Edging

Our team performs hard surface edging to cut back unruly grass that is infringing on your concrete hardscapes.

Flea & Tick Control

We apply our flea and tick control treatments in the spring, summer, and early fall to keep fleas and ticks away from your commercial property.

Mosquito Control

Safeguard your commercial property against mosquitoes with our powerful mosquito control treatments, which we apply every 4 to 6 weeks from the early spring to early fall.

Perimeter Pest Control

Our team provides perimeter pest control treatments that protect your commercial property from more than 130 different insects.

Mole & Vole Control

If you notice signs of mole or vole damage on your lawn, then our highly effective mole and vole control treatments will help eradicate these rodents from your commercial property.

Landscape Design

We can create 2D and 3D design renderings so you can see what your project will look like before the installation ever begins!

Our company has an A+ rating from the Better Business Bureau!

Plantings & Softscapes

Our team can renovate existing landscape beds or install new ones that feature coreopses, coneflowers, hostas, and other popular plants.

Annual Flowers

Let us install beautiful flowers like petunias, marigolds, begonias, and more to add a splash of color to your commercial property.

Landscape Lighting

We install and repair low-voltage LED lights that illuminate your landscape at night and deter potential intruders.

Plant Trimming & Pruning

Keep your plants well-manicured and healthy when you sign up for our plant trimming and pruning service.

Mulch & Rock Installation

Our team installs mulch and rock ground covers that spruce up your landscape beds and contributes to their overall health.

Landscape Bed Weed Control

Eliminate weeds from your landscape beds with our landscape bed weed control service.

Drainage & Grading

If you need help managing stormwater at your commercial property, then we can help you with our drainage and grading service.

Patio Installation

Expand the usable outdoor space at your commercial property with a beautiful new patio when you sign up for our patio installation service.

Walkway Installation

We install beautiful, functional walkways that make it easier and safer for your employees and customers to traverse your commercial property.

Driveway Installation

If your business needs a stunning new driveway, then we can take care of that for you with our driveway installation service.

Outdoor Step Installation

We install stone and concrete outdoor steps that enable you and others to navigate elevation changes at your commercial property with ease.

Retaining Wall Installation

If your commercial property resides on a slope, we can install an aesthetic retaining wall to help control soil erosion and create more flat, usable space.

Seating Wall Installation

Add more places to sit at your commercial property by hiring us to install a seating wall.

Fire Pit Installation

We install custom and kit outdoor fire pits that enable you to enjoy the outdoors even when the weather cools.

Outdoor Fireplace Installation

Let us install an eye-catching outdoor fireplace on your commercial property that can be powered by either natural gas, wood, or propane.

Outdoor Kitchen Installation

Our outdoor kitchen installations can be customized to include features such as refrigerators, bars, sinks, pizza ovens, and more that take your commercial property to the next level.

Water Feature Installation

We install a variety of soothing water features such as bottomless waterfalls, fountains, bubblers, and ponds to bring peace and tranquility to your commercial property.

Pergola Installation

If you've thought about installing a pergola at your commercial property, then we can make your dreams come true with our pergola installation service.

Pavilion Installation

Pavilions provide a great place to host outdoor corporate events, so let us install one at your commercial property.

Tree & Shrub Fertilization

Keep your trees and shrubs healthy and nourished with our tree and shrub fertilization program, which includes 4 treatments per year.

Tree & Shrub Disease Control

Protect your trees and shrubs from diseases, such as needle cast, with our tree and shrub disease control treatments.

Tree & Shrub Insect Control

We offer tree and shrub insect control treatments that target bagworms, emerald ash borers, Japanese beetles, and more.

Irrigation Installation

We install sprinkler and drip irrigation systems that deliver water to your lawn and landscape efficiently while saving you the hassle of watering by hand.

Irrigation Startups

Our team performs irrigation startups annually in April and May to bring your irrigation system back to life safely after it was shut down for the winter.

Irrigation Winterization

We provide our irrigation winterization service annually in October and November to shut down your irrigation system for the winter and protect it from damage.

Irrigation Repairs

If you have an issue with the irrigation system at your commercial property, then chances are we can fix it with our irrigation repair service.

Irrigation Backflow Testing

We understand how important it is for your irrigation system's backflow preventer to work properly, which is why we perform irrigation backflow testing.

Commercial Snow Removal

Mitigate the effects of winter weather on your business by signing up for our commercial snow removal service.

Holiday Lighting

Light up your business during the holiday season by hiring our team to design, install, remove, and store a custom holiday lighting display.
---
Sign up for our commercial lawn and landscaping services today!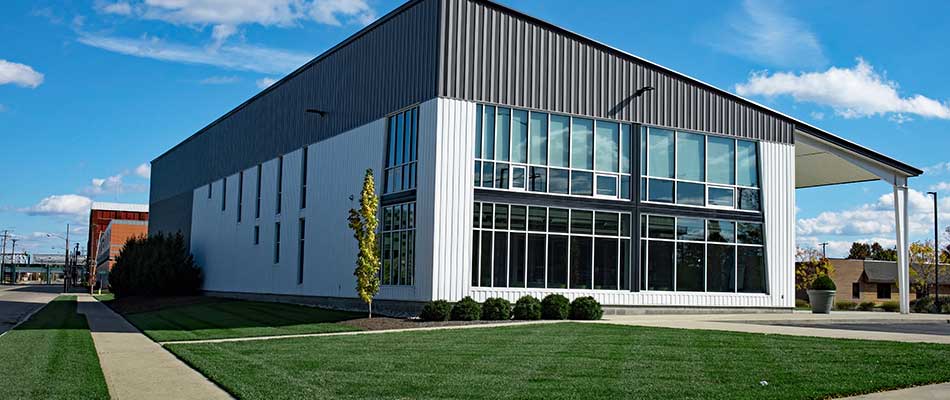 Are you ready to sign up for our commercial lawn and landscaping services? If so, then we're here to help you. We offer our full range of commercial lawn and landscaping services to property owners in Bondurant, Altoona, Ankeny, and nearby areas in Iowa. Whether you want us to fertilize your grass, apply mosquito control treatments, install a retaining wall, or repair your irrigation system, we have you covered. Don't waste any more time. Call us today at (515) 967-7400 to sign up for our commercial lawn and landscaping services.