Top-Quality Lawn Care & Landscaping Services for Properties in Des Moines, IA
We offer lawn care, hardscape installations, landscaping, pest control, and irrigation services.
The capital of the great state of Iowa is none other than Des Moines, a vibrant city with a population of just over 212,000. Not only is Des Moines a great place to live, but it also boasts a strong job economy. There's something to do for everyone here, and it can prove challenging to get bored in a city as rich as this one. The gold-domed Iowa State Capitol building is a famous historical landmark and a popular tourist destination. Meanwhile, you can also walk through the Greater Des Moines Botanical Garden or Pappajohn Sculpture Park to view beautiful plants or sculptures. There are also several nature parks to enjoy, like Gray's Lake Park, and art fanatics will find that the Des Moines Art Center is a must-see.
The beauty of Des Moines is unmatched, and at Frontline Lawn & Landscapes, we help properties here emulate that with our top-quality lawn care and landscaping services. Whether you want lawn care, hardscape installations, landscaping, pest control, or irrigation services - we offer it all to take your property to the next level.
---
Improve Your Property's Curb Appeal With Our Lawn Care & Landscaping Services
A pristine lawn and landscape will improve your property's curb appeal, and we're here to help you achieve that! We offer the following lawn care and landscaping services to property owners in Des Moines, IA:
Lawn Fertilization: We'll apply our fertilization treatments several times throughout the year to give your lawn all the nutrients it needs to grow healthy, green grass.
Weed Control: We'll utilize pre- and post-emergent weed control treatments to prevent more weeds from sprouting and eliminate any that have already surfaced, including crabgrass, dandelions, clover, creeping Charlie, and more.
Lawn Disease Control: Our lawn disease control treatments are just what you need to stop fungal diseases in their tracks, including brown patch, snow mold, and necrotic ring spot.
Lawn Insect Control: Lawn insects like armyworms, chinch bugs, and even grubs won't stand a chance against our lawn insect control treatments!
Aeration: We offer our core aeration service in the spring and fall to loosen compacted soil and improve nutrient access to your turf's roots.
Overseeding: We'll spread a premium seed mix across your lawn to fill bare and patchy areas with new, healthy grass growth.
Hydroseeding: We'll plant seeds on your turf via hydroseeding to give them a jumpstart with an additional supply of nutrients.
New Lawn Seeding: Establish your new lawn from the ground up with our seeding service! We'll thoroughly prepare the site, remove debris, and ensure proper drainage before planting our premium seeds.
Sod Installation: If you want a new, beautiful green lawn immediately, our sod installation service is for you!
Tree & Shrub Program: Our tree and shrub program includes fertilization treatments to give your plants the nutrients they need to thrive. However, that's not all - we'll also apply disease and insect control treatments to tackle an infestation or infection.
Lawn Mowing: We offer weekly lawn mowing from April until November to keep your grass at an ideal height throughout the growing season.
Trimming & Pruning: We'll spruce up your plants by trimming them, enhancing their natural shape and overall aesthetic. Meanwhile, we practice selective pruning to benefit their health by removing problem branches.
Mulch & Rock Installation: We can add mulch or rock ground covers in your landscape beds to boost their curb appeal and benefit the health of your plants.
Leaf Removal: We'll take the dreaded task of removing leaves from your yard off your to-do list.
Yard Cleanups: We offer our yard cleanup service on an as-needed basis, which includes lawn mowing, landscape bed reshaping, plant trimming, and debris removal.
Hard Surface Edging: We'll spruce up the grass lining hard surfaces, like your driveway, sidewalks, and walkways, for a neat and sharp appearance.
Landscape Renovation: Upgrade your landscape for a fresh, new look with our renovation service!
Annual Flowers: We can plant eye-catching, colorful flowers in your landscape beds, including petunias, pansies, begonias, and much more!
Commercial Snow Removal: Keep your business accessible during the winter with our commercial snow removal service!
Drainage & Grading: We offer drainage and grading solutions to remedy flooding issues on your property.
Illuminate your property with festive colors this holiday season with our holiday lighting service!
---
We can install beautiful, long-lasting hardscapes for your outdoor living space.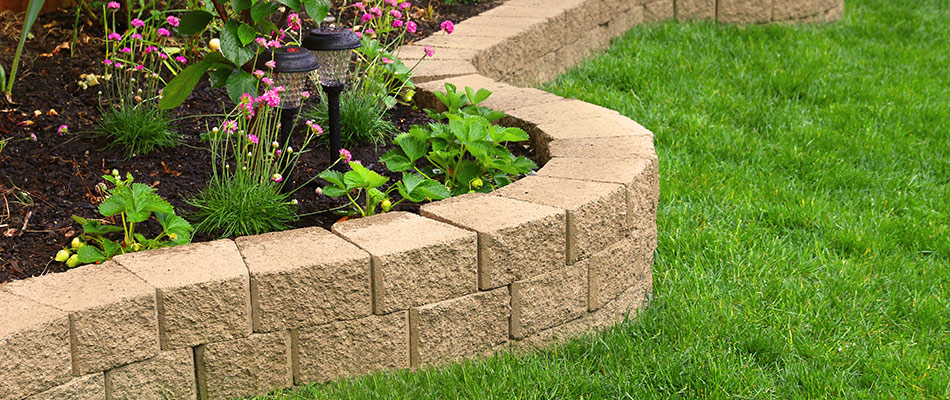 Your outdoor living space isn't complete without hardscapes, and we can install equally beautiful and long-lasting features, including all of the following:
Patios: You can choose from our durable and aesthetic material options for your new patio.
Walkways: Improve accessibility to different areas on your property with a stunning walkway!
Driveways: Say goodbye to your average driveway and say hello to a sturdy, beautiful new one with our driveway installation service!
Outdoor Steps: We'll install outdoor steps wherever you need them, and you can choose from our material options to best suit your aesthetic preferences.
Retaining Walls: Add a functional retaining wall to your outdoor living space to remedy soil erosion and level out sloped areas.
Seating Walls: We'll install an equally durable and beautiful seating wall to provide built-in seating for guests.
Fire Pits: We can construct your new fire pit from a custom or kit design, and you can choose to have yours burn natural gas, wood, or propane.
Outdoor Fireplaces: Sit by the fire in style with a beautiful outdoor fireplace!
Outdoor Kitchens: We can install an outdoor kitchen on your property in Des Moines, IA, with virtually any amenity you want, including pizza ovens, sinks, refrigerators, and more!
Landscape Lighting: Our landscape lighting service is just what you need to illuminate your outdoor living space for nighttime use.
Water Features: We can install any water feature you want, including bottomless waterfalls, fountains, bubblers, and ponds.
Pergola & Pavilion Installation: A stunning pergola or pavilion will make the perfect statement piece for your outdoor living space.
View your project before installation begins with our landscape design service, where we'll design a 2D or 3D rendering!
---
Our Pest Control Services Are Effective Against Fleas, Ticks, Moles, & More
Pests are the last thing you want to deal with, but we're here to take this task off your hands and send them packing from your property! Our pest control services are as follows:
Flea & Tick Control: Our flea and tick control treatments will ensure you won't have to worry about checking for unwanted hitchhikers on yourself or your pets!
Mole & Vole Control: We'll use highly effective bait to tackle these furry pests.
Mosquito Control: Mosquitoes won't stand a chance against our mosquito control treatments!
Perimeter Pest Control: We'll apply our perimeter pest control treatments around the exterior of your home or business to keep pests outside where they belong.
---
We offer irrigation system installations, startups, winterization, repairs, and maintenance services.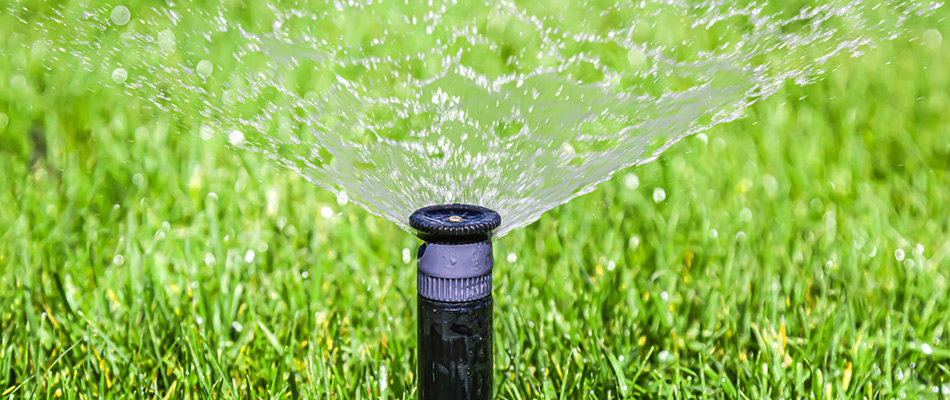 Your irrigation system is crucial to keeping your lawn and plants well-hydrated, and we offer various services to satisfy your irrigation needs:
Irrigation Startups: We'll start up your irrigation system once the winter is over in April/May.
Irrigation Winterization: We'll shut down your irrigation system for the winter in October/November.
Irrigation Repairs: We'll repair your irrigation system if anything breaks or malfunctions.
Irrigation Maintenance: We'll perform regular, ongoing maintenance checks to ensure your irrigation system is properly functioning.
Irrigation Installation: If you want to install a new irrigation system on your property, then we're the ones to call.
---
Call Us to Schedule Any of Our Lawn Care & Landscaping Services Today
At Frontline Lawn & Landscapes, we offer lawn care, landscaping, hardscape installations, irrigation, and pest control services to residential, commercial, and HOA properties in Des Moines, IA. Call us at (515) 967-7400 to schedule any of our services today!