Landscaping Services in Bondurant, IA & Surrounding Areas Like Altoona & Ankeny
Our services include landscape design, plant trimming and pruning, landscape lighting, and more.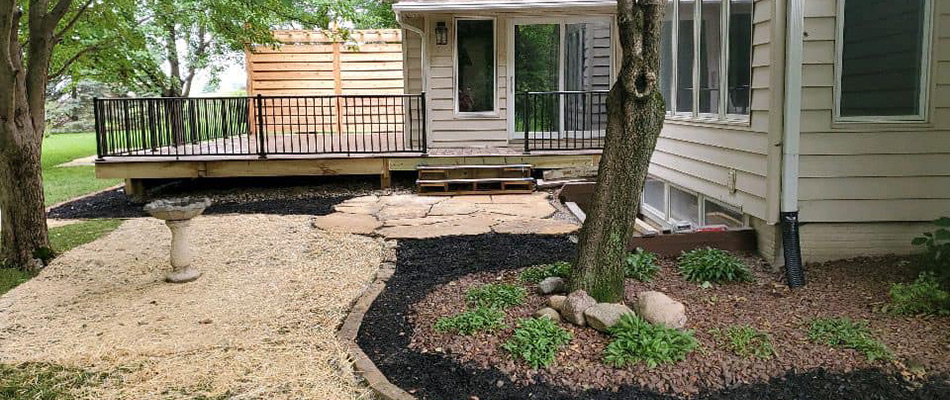 You can't overstate the impact of a beautiful landscape. It bolsters your property's curb appeal and can even boost its value. At Frontline Lawn & Landscapes, we offer a selection of top-notch landscaping services to residential, commercial, and HOA property owners in Bondurant, IA, and surrounding areas like Altoona and Ankeny. Our services include landscape design, plant trimming and pruning, landscape lighting, and more that can take your landscape to a whole new level. You can schedule any of our landscaping services by calling us today at (515) 967-7400!
Landscape Design

Get a vivid preview of your future landscape project with our landscape design service. We can create 2D and 3D design renderings that will provide you with a glimpse of what your finished project will look like once we have completed our work. Not only do these renderings help you envision your future landscape, but they also help us ensure that we are on the same page as you when it comes to the accuracy of your design.

Plantings & Softscapes

Enhance your landscape's natural beauty with our plantings and softscapes service. Whether you want to install new landscape beds or renovate existing ones, our team has you covered. We can install numerous plants such as coreopsis, coneflowers, hostas, daylilies, and more while upgrading the landscape beds in which they reside.

We have provided our professional landscaping servies in the Bondurant, IA, area for the past 16 years!

Annual Flowers

Add some color to your landscape with our annual flower installation service. We can install breathtaking flowers like petunias, dahlias, marigolds, pansies, and more that make your landscape pop.

Landscape Bed Weed Control

Don't let weeds overtake your landscape beds. Not only do they tarnish the pristine appearance of your landscape beds, but they also negatively impact the health of your plants. Our highly effective landscape bed weed control treatments eliminate weeds from your landscape beds so they don't cause any problems.

Plant Trimming & Pruning

We recommend that you schedule our plant trimming and pruning service in the spring or fall to keep your trees and shrubs in top condition. Trimming maintains the aesthetic appeal of your plants, while pruning focuses on preserving their health.

We can trim and prune trees that are up to 20 feet tall!

Mulch & Rock Installation

You can hire our team to install ground covers like mulch and rock in your landscape beds. These ground covers will spruce up the appearance of your landscape beds while also providing numerous benefits such as helping with moisture retention, temperature regulation, and erosion control.

Landscape Lighting

We design and install custom landscape lighting displays using low-voltage LED lights that are long-lasting and energy-efficient. Lights showcase the focal points of your landscape at night while enhancing your property's safety. If your landscape lights ever falter, we also perform repairs.

Drainage & Grading

If your property has drainage or grading issues, then our team can help resolve them. We offer drainage and grading solutions that help your property drain water properly.
---
Call us today to schedule our landscaping services!
Do you want to help your landscape flourish? If so, then our team can help make that happen with our exceptional landscaping services. We offer a broad range of landscaping services to homeowners and business owners in Bondurant, Altoona, Ankeny, and nearby cities in Iowa. Our company has an A+ rating from the Better Business Bureau, so you can count on the quality and reliability of our services. If you're ready to get started, call us today at (515) 967-7400 to secure your spot on our schedule!