Professional Lawn Care Services in & Around Bondurant, Altoona & Ankeny, IA
We offer fertilization, weed control, aeration, grub control, and more.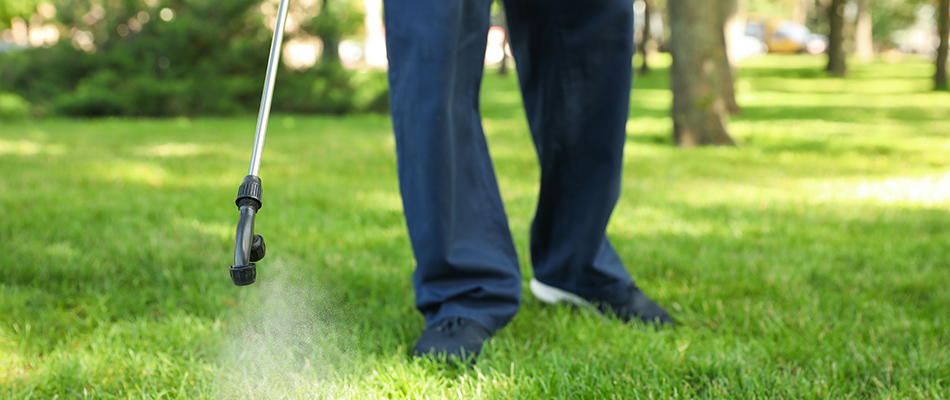 If you want to achieve your dream lawn, you've come to the right place! Here at Frontline Lawn & Landscapes, we've been creating healthy, beautiful lawns for 16 years. Whether you need fertilization, weed control, aeration, grub control, or anything in between - you can trust that your turf is in good hands with us!
We offer our professional lawn care services to residential, commercial, and HOA property owners in Bondurant, Altoona, Ankeny, and other surrounding areas in Iowa.
Lawn Fertilization

Our lawn fertilization program includes multiple treatments throughout the year to ensure your turf has a consistent supply of the nutrients it needs to thrive. We'll use both liquid and granular fertilizers depending on what's best during the particular treatment.

We offer three fertilization programs to best suit your turf's needs: the basic, classic, and premier.

Weed Control

We'll apply a pre-emergent weed control treatment in March-April to get ahead of weeds and prevent them from sprouting. Meanwhile, we'll utilize post-emergents for the rest of the treatments to eliminate any existing weed growth. These treatments are effective against crabgrass, goosegrass, creeping Charlie, dandelions, clover, and more!

Lawn Disease Control

We offer curative lawn disease control treatments to eliminate fungal diseases like brown patch, snow mold, and necrotic ring spot. That way, your turf can get back on the road to recovery.

Grub Control

Grubs are one of the most destructive lawn insects, feeding on the roots of your grass and causing severe damage to your lawn if left untreated. Fortunately, our preventative grub control treatments are just what you need to eliminate grubs before they hatch, saving yourself and your lawn the trouble of an infestation.

Armyworm Control

Our armyworm control treatments will stop armyworms from marching through your turf.

Chinch Bug Control

Don't let chinch bugs destroy your precious lawn - schedule our chinch bug control treatments to kick these pests to the curb!

Mosquito Control

Mosquitoes make spending time outside less enjoyable, swarming and leaving itchy bites by the dozens. Fortunately, we can drastically reduce the population and repel any more from harboring on your property with our mosquito control treatments!

Aeration

Our core aeration service consists of passing over your lawn once with our aerator to pull up "cores" of soil. This process loosens compacted soil and creates tiny holes in the surface, which serve as passageways for nutrients and resources to reach the roots of your grass. We offer this service in the spring and fall.

Overseeding

Thicken your lawn with our overseeding service! We'll spread a premium seed blend across your turf to fill bare and patchy areas with new, healthy grass growth.

Hydroseeding

We'll grade the area and remove debris before spraying seeds via hydroseeding. This process is a great way to give the newly planted seeds a jumpstart with a balanced nutrient mixture!

Sod Installation

If you want to establish your new lawn and see beautiful green grass immediately, our sod installation service is the answer! We'll thoroughly prepare the soil, ensuring proper drainage and removing debris before rolling out the sod. Then, we'll water it before recommending an ideal watering schedule to help it establish and grow roots in the soil.

New Lawn Seeding

Our new lawn seeding service consists of grading the area, removing debris, and spreading seeds to grow your new lawn from the ground up.
---
Give your lawn everything it needs to thrive by signing up for our lawn care services!
At Frontline Lawn & Landscapes, we offer our lawn care services to homeowners, business owners, and HOA property owners in and around Bondurant, IA, including Altoona and Ankeny. We'll give your lawn everything it needs to thrive, and all you'll have to do is sit back and reap the rewards. Call us at (515) 967-7400 to sign up for any of our services!